Introduction
Redcat gen 8 is a racing car. It has amazing features. But sometimes it may show some problems. Though they are not major, they hamper your smooth performance.
We will learn about them in this article.
So, what are Redcat gen 8 problems?
One of the common problems of redcat gen 8 is it has a belly bump. The tires and foam are not that great. It has a weak servo and a weak drive train. The gears are made of plastic body and can't work properly. Besides it has a bad transmitter and thus the potentiometer becomes sensitive.
In this article, we will learn more about these problems.
Redcat Problems
Redcat is an amazing product in its category. It's a very rugged truck. But it may show some issues while you are using it. We will explain to you the problems with unleashing the vehicle.
Belly Bump
The belly bump is one of the most typical concerns in a Redcat racing car. Unlike other vehicles, the gen 8 Redcat has a somewhat spherical bump in the centre of the lower body.
For this belly bump, you can't do technical hauling properly. Otherwise, it would sometimes get hung up. Your redcat rally car may not function smoothly as a result of this bump.
Foam and Tire
The tires and foam on redcat automobiles are a regular issue. They are swamper-style and not very nicely done.
They have a coating inside them that turns quite filthy. Worst of all, they're difficult to clean. A few times, it was the tire foams that may throw you for a loop. You need to clean your rc car regularly.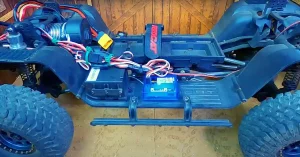 Memory foam has been used to construct the foam. These materials, on the other hand, have a very slow rebound. They would require longer than usual to adjust to a previous shape.
It means you won't be able to keep a tight foothold on your tires. Additionally, the problem becomes considerably worse for racing by your car in the snow.
Modulating Speed and Limited Steering
Another common problem of this gen 8 redcat car is that it's hard to modulate the speed.
It has a limited steering as well.  For this, it would become hard to control your vehicle. 
When you've been using the car for a significant duration, this can happen. In this situation, your cars will turn on and light up correctly. The steering is also sometimes inoperable.
You may think that the driver is terrible when it happens. But it is because of the failure of modulation due to the lack of the car.
Sensitive Potentiometer
The transmitter in the Redcat racing cars could be of poor quality. As a result of this, the potentiometer becomes overly sensitive. This is why driving the car becomes more difficult.
The steering is also hampered by the lack of throw in the transmitter. For this, sometimes the rc car won't move.
Blackout Windows
It's not considered a severe problem. The glass of the windows are painted blue. Moreover, sometimes they have stickers on them.
It ruins the look of the vehicle. Though it may not be a problem to everyone, it pokes the eye of a viewer.
Weak and Slow Servo
The redcat gen 8 has slow servo. But, the vehicle is very heavy compared to its slow servo.
Therefore, it becomes difficult for the driver while turn. Sometimes it slows the vehicle and sometimes you can't simply turn in the vehicle.
Moreover, sometimes your servo is not waterproof. Thus it ruins your performance during the rainy season.
Body Mount Velcro Coming Off
The Redcat gen 8 comes with a fender. Velcro is attached with the fender but it keeps coming off. 
If you use the redcat car for a prolonged time, it would become worse. Additionally, over time it will happen very often.
Weak Drive Train
It is considered as one of the most serious issues for a Redcat racing car. The drive train is very weak.
As a result, the gears are not strong enough for it. It has some plastic gears which are not strong enough. 
These are some basic problems of redcat gen 8. 
Solutions
Redcat is a trustworthy brand. You may face some of the problems. But there is an easy solution for the problems. 
Here we will discuss the solution of these above problems.
For the belly bump problem, there is an easy solution. You just need to get some spacers and put them on the transferable case. Then lift the case and cut the bump with something sharp.
Shape the surface after that and clean it up. You can put a pan over it to make it slippery. It will smoothen the surface and you won't face any technical difficulties.
For the tire and foam problem, the Beadlock wheels must first be unscrewed. After you've finished, you'll need to dispose of the foam. Then go to the supermarket and get some new ones.
You can also buy new tires. By getting new and better tires, it will give you a smooth performance. You can get the proline hyrax one and it will last long.
The servo is the primary cause for not getting to modulate the speed and limited steering. The servo wires or the servo gears are both stripped. A faulty servo connection may just be the source of the problem.
Check to see if the links are connected properly to remedy this. Check to see whether the linkages are responsive to the servo as well.
Using a screwdriver, unravel your transmitter for having a sensitive potentiometer. Then take it out and replace it with a nicer one from the supermarket.
Here I recommend some nice transmitters which will work best for your car.
You'll notice a big improvement in performance. Besides, you'll have more control over steering.
To clean the blackout window, there is an easy solution. You just need to use nitromethane fuel on the window. Also, you need to mask up the window with the fuel and rub it.
It may take one or two hours. But you will get clear windows as you desire.
You'll have to remove your old servo to remedy this problem and need to get a good servo to replace it. 
However, we are aware that servos can be somewhat costly. As a result, you may want to hunt for some less expensive alternatives, 20kg or 23 kg.
You can also make your servo waterproof.
If your velcro keeps coming off, you can use a magnet. You may use an earth magnet to be specific which is the solution to the problem.
For the weak drive train, you have to change the gears. You need to replace your plastic gears with metal gears and your vehicle will be good to go.
That's all about the problems and the solutions of the Redcat gen 8.
FAQs
What kind of engine is used in the Redcat Gen 8?
The 17T textured motor is used in redcat gen 8 racing cars. The size of the motor is 550. This is a very powerful engine. In this upgrade, we got a brushed motor from Redcat.
Is Redcat gen 8 waterproof?
Yes, the Redcat gen 8 racing vehicle is waterproof. This vehicle also includes a waterproof receiver. The servo is also waterproof and it's perfect for the rainy season. But we would recommend you not to keep in touch with water frequently.
What is the ground clearance for the portal axles?
Portal axles allow for increased ground clearance without the requirement for larger tires. Metal gear covers, metal wheel hexes, and CNC machined spools are included in the portal axles, which provide 54.5mm of ground clearance.
Conclusion
You are now aware of the Redcat Gen 8 problems. At the same time, you're also aware of the remedies to these issues.
After you've resolved the difficulties, make sure you look after your RC car. This is due to the fact that they can be fairly costly, and repairing them can be difficult.
Best of luck with your Redcat car!