Introduction
Are you facing problems with your ECX Ruckus and don't know what went wrong? Many ECX Ruckus owners face such issues and don't realize what is to be done next!  Well, the first thing you should do is troubleshoot your truck to check what went wrong.  
Don't know how to troubleshoot it? That's alright, we are here to walk you through the entire process!
So, what is the process of ECX Ruckus troubleshooting? 
To troubleshoot ECX Ruckus, first, check if the speed controller is working fine or not. Make sure the radio antenna is alright and also the batteries are charged. Then disassemble the parts and frequently check one by one to solve the matter.
Now, you must be worried about how to do it step-by-step. No worries! We have mentioned all the guidelines here in detail to help you out. Let's dive into the process-
How To Troubleshoot ECX Ruckus? 2 Common Problems
Troubleshooting the ECX Ruckus isn't a difficult task. In different cases, you have to apply different methods for troubleshooting. First you have to identify what went wrong with your ECX ruckus and then troubleshoot it step by step. 
We have provided two common problems with your ECX Ruckus that you can troubleshoot. By doing this, you'll be able to figure out which one your truck is facing.
Let's dive into the procedures of how to troubleshoot your ECX Ruckus-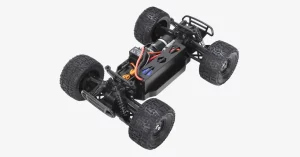 Troubleshooter 1 of 2: ECX Doesn't Respond
Often ECX Ruckus owners face issues with the response. If your ECX Ruckus isn't responding, you have to make sure that your speed remote is working fine. Also, check whether the batteries are working properly. We suggest using good quality RC batteries to use in your cars to avoid battery issues.
Check the radio and ensure that you are not touching the trigger which changes the mutual point. The speed control doesn't recognize it, so it doesn't want to arm it. 
Then you have to check the backside of the radio. If you want, you can change the reverse functioning of the channels. And lastly, you have to check that knob in the remote which says throttle trim. Make sure that it is in a neutral position. 
Normally, these are the things that fix ECX problems. But if the remote control is good, then there might be something wrong with ECX ruckus body parts.                         
We have mentioned some good quality remote control batteries that you can use to fix it.
These are quite durable and will not disappoint you for sure! Never use a charger with a Li-po battery and it is recommended to select rechargeable batteries more.
Troubleshooter 2 of 2: ECX Ruckus Gets Hot
Sometimes, ECX owners experience this issue where their EXC gets hot. First and foremost, there is no issue with the engine or the ESC for this high temperature. The problem is somewhere between the wheels and the engine. 
Confirm each wheel to ensure it rotates freely and easily. This will verify the individual axle. If one wheel rotates in one direction, the other should rotate in the opposite direction. It should not stop or stutter; this verifies the differential. 
Both edges should have a comfortable appearance.
The very next step will need you to disassemble the wraps following the manuals. This contains the dispersion in order to see the wheels on the other edge of the spur. It is basically leading to the rear differential. 
The next step may require you to know how rc works. So you can swiftly get it done. Begin by verifying the three gears to ensure that nothing is stuck among them. Because if there's something stuck, it's causing the gears to stop functioning.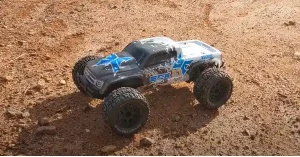 Then the next step is to extract a gear from the slipper or spur and see if it spins flexibly. You should check this when both wheels are forced to move forward or backward. Or if it requires power to push the truck. Replace the gear in that case. 
While solving this issue, you may cause some damage and holes in the plastic area. However, don't worry because that can be fixed as well.
Examine the spur and pinion gears to ensure they are not clogged. And this way your problem should be solved.
Well that was all we had regarding how to troubleshoot ECX Ruckus. Make sure to go through every detail for this otherwise you may end up damaging your ECX. We hope our guide will help you fix your problems. Nonetheless, if you face serious issues, do take professional help to repair it.
FAQs
Question: Is it possible to steer a scale Ruckus?
Answer: They may be as durable as ever right out of the box, and if someone desires greater steering performance, they may be able to do it without difficulty. In fact, the freshly launched 1/18 scale Ruckus and Torment utilize this steering system, and the performance boost is instantly obvious.
Question: Is there something wrong with the ECX line?
Answer: The ECX line's two greatest difficulties (and remedies) are listed below. ECX is a long-lasting automobile brand. In reality, it's far too long-lasting. Our component sales have dropped dramatically since we started selling ECX (after the 2012 reboot). Vehicles from ECX don't break down frequently enough to keep the brand alive.
Question: What kinds of situations can a ruckus car encounter?
Answer: WATER-RESISTANT RUCKUS VEHICLE WITH WATERPROOF ELECTRONICS Your new Horizon Hobby vehicle was designed and built with a combination of waterproof and water-resistant components to allow you to operate it in a variety of "wet conditions," such as puddles, creeks, wet grass, snow, and even rain.
Conclusion
That's everything we had regarding what to do about ECX Ruckus Troubleshooting. We hope we were able to help you find out the reason and solve the situation. 
Make sure to follow our instructions correctly while using the method.
Good luck with fixing the problem!