Introduction
If you are an RC boat enthusiast, then you have definitely come across  Traxxas Spartan and M41. It's a burning battle among the consumers to decide which one is better between Traxxas spartan and M41. 
We will go through some of the core differences today to make you understand which one will be suitable for you.
So, what are the differences: Traxxas Spartan Vs. M41?
Traxxas Spartan and M41 both are very popular RC boats and not very different from each other. With 40 inches in length, Spartan has a high-performance, and durable body. On the other hand, M41 has almost a similar size but it is super fast. It has 175MPH which is far more speed than Traxxas Spartan.
Like the overview so far? Great! Because we have more interesting facts about these two RC boats to discuss in our next segment. So if you want to pick your best choice, then follow the lead.
Let's get started!
Traxxas Spartan Vs. M41: Quick Overview
Before starting the detailed comparison, we will go through the basic differences first.
The following is a quick overview of the two RC boats' head-to-head comparison:
| | | |
| --- | --- | --- |
| Features | Traxxas Spartan | M41 |
| Speed | 50 MPH | 175 MPH |
| Runtime | 10min | 12min |
| Appearance | Larger | 1 inch less than spartan |
| User-friendly | More | Less |
| Weight | Heavier | Lighter |
| Price | Around $400 | Around $450 |
Traxxas Spartan Vs. M41: Head-to-head battle
We've drawn together a full head-to-head comparison for your convenience. The difference is quite similar to the comparison of Traxxas UDR and Losi Super Baja Rey. 
You'd be able to choose which one is best for you after going through this discussion.
Design
Traxxas is more like a marketing firm. At the very least, they concluded that to compete for sale in the RC boat industry, they needed a catamaran. The hull size they came up with is a fantastic, modeled boat with an open cockpit design.  
However, putting the Spartan's engine in it makes them not have any finger on the pulse of that hobby. Most people change the standard spartan water jacket with an aluminum one since it leaks. 
Here are some of the recommendations for aluminum jackets that might be handy for you.
Also, the flex cable is brittle, and most of them break. And it needs to be replaced. ESC goes up in flames. 
The Traxxas M41 has an unusual, aggressive appearance because of its usage of a catamaran hull design. Which is based on Dave's Custom Boats' full-size M41 Widebody. The catamaran has parallel hulls of similar size instead of a catamaran with a V-shape configuration. So, M41 is a winner here.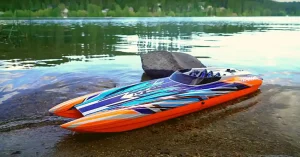 Winner: M41
Speed
You might have heard about Traxxas blast top speed. All the devices are really good with speed. In ideal conditions, the Traxxas Spartan can reach speeds of over 50 mph. The acceleration is also amazing, allowing you to reach maximum speeds in seconds.
On the other hand, It travels at 175 mph owing to its finely carved design as well as a set of Mercury Racing 1350 engines! Traxxas has recreated the DCB M41's amazing aesthetics and performance. Which is flexible, entertaining, and quick at the same time. Another article of mine discusses Traxxas M41 troubleshooting
Overall, the Spartan is the boat to have if you want to travel across large bodies of water at speeds of 50 mph or more. Still, you will be able to see everything well. Even after you've blasted your way to the back of the lake. But the M41 runs faster than the Traxxas Spartan, so it's quite difficult to enjoy the view.
Winner: M41
User-friendliness
Since this is a high relative end boat, you might customize many components of it. Including the transmitter, you can customize it as you like. The parts of steering and throttle, sensitivity, and endpoints, for example, are all configurable on the transmitter.
On the other hand, Traxxas M41 has almost a similar length and size. But the weight is lighter than spartan. So, many users complain that it is not as safe as Traxxas spartan. And also, the size is not as compact and comfortable as Traxxas Spartan.
Winner: Traxxas Spartan
Price
There is not much difference between these two RC boats. Traxxas Spartan will cost you around 400$. And on the other hand, you can purchase an M41 for around $50 to 500$. Though the price range varies from time to time. 
But, comparatively, Traxxas spartan is more budget-friendly than Traxxas M41. So, if you want to save money and want to buy a good RC boat, then select Traxxas spartan.
Winner: Traxxas Spartan
Size
The Traxxas Spartan has a length of 40.80″ (1037mm), a width of 9.50″ (243mm), and a height of 5.80″ (147mm). It's one of the largest RC boats on the market, giving it excellent handling and power. For stability, the Spartan features a 36″ (914mm) deep v hull that dives into the water.
The Spartan is a huge ship, measuring over 40 inches in length and with a 36-inch deeper hull for added stability. The chances of capsizing the Spartan are slim if you pick the correct batteries and your skill level. The Spartan reaches speeds comparable to high-performance jet skis. It can hit over 50 mph in a matter of seconds.
This is a boat large enough to drive about in a vast region while keeping a clear view.
On the other hand, the M41 has a dominating presence merely floating in the water at a little over 40 inches (1 meter) long. The fun begins as soon as you open the throttle! The M41's size and design make it adaptable enough to function in a variety of situations. It is a 10.5-inch-wide beam (267 mm) and 39.5-inch hull in length (1003 mm).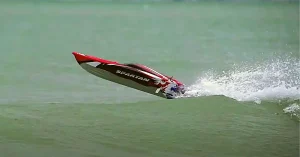 Winner: Traxxas Spartan
Final Verdict
If you ask for our recommendation, then we would suggest you should go with Traxxas Spartan. If you want a user-friendly, high-speed, high-performance RC boat then choose this one. For you, the Traxxas Spartan is the perfect alternative. 
Though Traxxas M41 is super fast but is not that user-friendly. Unless you are in a competition, the M41 speed is not that enjoyable with the view.
However, at the end of the day, you will have to make your final choice. So, go through all your requirements and check which one you want.
FAQs
What distinguishes the Traxxas Spartan from the competition?
Traxxas' Spartan is the type of boat you'd expect. Even the most power-hungry aficionados will stand up and take note of its 50+ mph ferocity. With its super-rigid 36-inch deep-V hull, revolutionary water cooler system, and precise aluminum, Spartan is on top of the business.
The Traxxas Spartan has how many batteries?
Traxxas spent time in R&D over the years. To further enhance its products, the result is the jaw-dropping 36-inch brushless driven Spartan. It's ready to use right out of the box, requiring only four "AA" batteries for the transmitters. And it has a charger for the twin 7-cell NiMH battery sets.
Traxxas DCB M41 widebody has what sort of radio system?
Ready-To-Race TM is a trademark of Ready-To-Race, Inc. The TQiTM 2.4GHz transmitter, Velineon cordless power source, applied graphics, and extensive instructions come standard with the Traxxas DCB M41 Widebody. Traxxas provides unrivaled industry-leading support for the M41 and all of the products.
Wrapping UP
Hopefully, you found this article to be informative. We hope you understand the differences between the Traxxas Spartan Vs. M41. You should be able to simply pick between these two options now. We hope you are happy with your choice.
Until the next time, take care!