Introduction
While you're craving to get into the track, which RC to take is bugging you crazy. We know it can be a hassle. 
So you want to know about Rustler vs Slash?
If you want a higher top speed, go for the Rustler. It will also help by Self-Righting if you don't want to flip it over every time while riding. Although, you might be someone who likes to play it safe. In such a case, go for the Slash. It's bumpers protect the truck from unwanted casualties. 
But knowing only this much won't be enough. Don't worry though because we've written a whole article about it. 
Rustler Vs Slash- Quick Overview!
Before choosing the right RC for you, there's an ocean of information to go through. 
But we've tried to sort it out as much as possible. While there are many similarities between Rustler and Slash, we've tried to focus on the differences. 
| | | |
| --- | --- | --- |
| Factors | Rustler | Slash |
| Wheels | 2.8" All-Star mirror-chrome wheels | 2.2" Pre-Glued with foam inserts wheels |
| Pinion Gear | 35+ mph top speed (28 tooth) | 30+ mph top speed (23 tooth) |
| Self Righting | Yes | No |
| Bumpers | No | Scale Front and Rare Bumpers |
Although, these simple factual information won't be enough to make a decision. That's why we have taken the time to explain all of it. So be sure to stick with us till the end.
Rustler Vs Slash- Detailed Overview!
We know how important it is to know everything before you get on track. That's why we've tried to provide a detailed analysis. Depending on your needs, the right choice might be different for you. 
That's why we've tried to consider all possibilities. 
Wheels
Before discussing the wheels, we need to know why is it important. So, are bigger tires better for RC?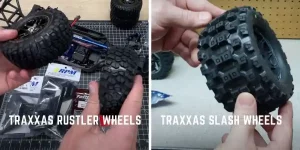 Bigger tires with larger diameters mean more speed. With every turn, it will be able to cover more ground. Thus the increased speed. Although bigger tires also weigh more. That's why you'll have to ensure more torque to turn the wheels. Also with bigger tires, you'll have more traction.
Now, it's time for our comparison. What size wheel is for Traxxas Slash?
Traxxas Slash uses 2.2" Pre-glued with Foam Inserts. The diameter of the tire is 4.31 inches (109.5 mm). On the other hand, the outer wheel diameter is 2.2 inches (56mm). The inner wheel diameter is 3.0 inches (76mm). Also, the wheels are 2.2" Split-Spoke with green or orange Beadlock.
So, what size wheel is for Traxxas Rustler?
Traxxas Rustler uses 2.8" rear step pin tires and ribbed mountain tires. The tires have a ribbed pattern for better traction. For the wheel diameter, the outside diameter is 4" (101mm). While the inner diameter is 2.8" (71mm). Also, it uses 2.8" all-star chrome wheels.
So, it's clear that if you want better traction and speed you should go for the rustler. Rustler's tires will definitely help you achieve that. 
A detailed table describing the differences is still given below:
| | | |
| --- | --- | --- |
| Factors | Rustler | Slash |
| Tire diameter | 2.8 inches  | 2.2 inches |
| Wheel | 2.8" all-star chrome wheels | 2.2" Split-Spoke with green or orange Beadlock. |
| Outer wheel diameter | 2.2 inches (56mm) | 4 inches (101mm) |
| Inner wheel diameter  | 2.8 inches (71mm) | 3 inches (76mm) |
Pinion Gear
Before comparing them, first we need to know – what does pinion gear do?
Pinion gear serves as a connector to the steering shaft. It ensures that the gears spin. Also, while the steering wheel turns, it ensures that the rack moves. A bigger pinion with more teeth delivers more top speed but lessens acceleration. However, a smaller pinion with lesser tooths does the opposite.
Now that we know why is it necessary, let's compare them. But the fact is initially, both Rustler and Slash use 16 T 48 P gears. 
So, they should both have similar torque, top speed, and acceleration. They do unless you use the optional pinion gears. 
Now, what is the optional pinion gear for Traxxas Rustler? The Rustler can use an optional 28-tooth pinion gear. This enables the Rustler to reach 35+ mph top speed. 
On the other hand, what is the optional pinion gear for Traxxas Slash? The Slash can use an optional 23-tooth pinion gear. This helps the Slash to achieve 30+ mph top speed. 
So, if you want more speed, go for the rustler. On the other hand, if your track demands more acceleration and torque, go for the slash. 
Although sometimes your Traxxas might not be able to achieve the desired performance. Most times, it might be a faulty battery.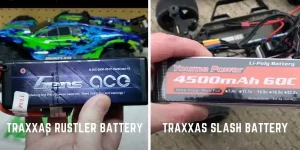 Be sure to check for faulty batteries in Traxxas.
Self Righting
First we need to know what is Self- Righting in RC? 
Self-Righting is a feature that helps your truck to get back on its feet. While on track, your truck might flip over. With Self-Righting, you don't have to go over there to manually tilt the car back. It will fix its position on its own by pulsing the motor forward and backward.
So, which one has Self-Righting? The answer is the Rustler. You just have to keep on holding the "set button". Do it for about five seconds and the truck will try to flip itself over. 
On the other hand, Slash doesn't have Self-Righting technology. So, if you want to save yourself the hassle of manually flipping it, go for Rustler.
Bumpers
Finally, the bumper comes. So, what do bumpers do in RC?
Bumpers prevent or reduce the physical damage that comes to your RC. It protects the front and rear of your RC. Also, it plays a vital role in absorbing brutal impacts. In RCs, bumpers are usually made of plastic. They are really durable and reliable.
Now the question is which one has it? The answer is the Slash. It has front and rare scale tube-style bumpers. On the other hand, the Rustler doesn't have one. 
So, if you are aiming for a rough track, you can pick the Slash. Unlike the Rustler, its bumpers will keep your truck safer. Here are some bumper suggestions for you:
Both of these bumpers are first-class products. Though they are plastic, their durability ensures your truck's safety. 
What to Choose?
By now you have most probably understood which one to get. If you want more top speed, go for the Rustler. It also has Self- Righting technology which is absent in the Slash.
But if you prefer more safety for your truck, then choose the Slash.
FAQs
Will Traxxas Rustler's body fit in Slash?
No. The Traxxas Rustler body will look odd in SLash chassis. The slash chassis is a 13.2" wheelbase. It's longer than what the Rustler is made for. Although with certain modifications you can make it work. Then again it won't be a good look on your truck. Rather stick to a slightly shorter chassis. 
Which motor is used in the Traxxas Rustler?
The Traxxas Rustler uses a 12-Turn 550 Modified brushed electric motor. It's oversized armature enables more torque and power handling capabilities. It provides quick acceleration, bigger air jumps, and higher torque than the average motors. It also comes with an internal cooling fan.
What does Traxxas link do?
While driving, Traxxas Link gathers and saves real-time telemetry data. Some models, including the E-Revo, X-Maxx, and Unlimited Desert Racer, provide telemetry data directly from the ESC without the need for additional sensors. Other models could need extra sensors to show temperature, RPM, battery voltage, and speed.
Bottom Line!!
Now let's hear about your opinion. 
Were we able to answer all your queries related to Rustler vs Slash?
Here's an extra tip for you. Even with the same motor, you can upgrade Rustler to reach more speed than Slash.
If there's anything left in your mind, be sure to comment down below.