Introduction
In the RC community, the Kraton and Talion are both formidable names. Both cars are durable, fast, and extremely reliable. This often causes a spark in the users about which is superior. 
What are the differences between Arrma Kraton vs Talion? 
While the Arrma Kraton is cheaper than Talion, it has a bigger body. The Kraton also has a wider stance which improves its stability. But the Arrma Talion has a higher top speed and faster acceleration. This makes the Arrma Talion focused on racing. But the Arrma Kraton is primarily for bashing. 
That was a brief comparison and an incomplete one at that. There are a lot more to talk about, mention, and compare. Luckily, we're more than glad to do it for you. 
Stay with us till the end if you want to know more about Kraton and Talion. 
Arrma Kraton vs Arrma Talion: Notable Differences
When it comes to durable off-road RC vehicles, Arrma Kraton and Talion are famous. They're quite similar as they're produced by the same company. 
But in reality, they tend to be very different in terms of racing and bashing. That's why you'll have to look at the differences sector by sector. 
This comparison is quite similar to comparing Traxxas Rustler and Slash. Despite being almost the same, they have a lot of differences. 
To make it easy for you, we've brought all the differences to one place. This way you can easily understand which vehicle excels in what category. 
Here's what you're looking for-
| | | |
| --- | --- | --- |
| Attributes | Arrma Kraton  | Arrma Talion  |
| Price Point  | Cheaper | Expensive |
| Vehicle Size | Bigger | Moderate |
| Wheel Size | Large | Smal |
| Stance | Wide | Narrow |
| Weight | 10.67 lbs | 9.44 lbs |
| Ground Clearance | Higher | Lower |
| Top Speed | 60+ mph | 70+ mph |
| Acceleration | Slower | Faster |
| Handling  | Harder | Easier |
| Durability | Tougher | Moderate |
| Compatible Sport | Bashing | Racing |
| Get Them Now | | |
After going the table, which one are you liking more? 
Arrma Kraton vs Arrma Talion: Detailed Discussion
Choosing between Kraton and Talion isn't easy. We totally understand that. If you haven't reached a conclusion yet, that's alright. 
Here, we've compared both monster trucks head to head in multiple categories. This will give you more insight into why one has an advantage over another. 
And more importantly, how big of an advantage we're talking about. At the end of the comparison, you'll be making your own decision. 
With that said, let's not waste any more time and head right in-
Price Range 
Like any other product comparison, price range matters the most out of all categories. The Arrma Kraton vs Talion debate isn't an exception to this either. 
Before we begin, remember that if you're new going cheaper is the best option. Because you'll be learning along the way and later you can always upgrade. 
When it comes to price points, Arrma Kraton is overall cheaper than its counterpart Talion. 
On hobby shops, you can get 1/6 Arrma Kraton 4WD trucks for about $549.99. The price may seem a lot high compared to other trucks. 
But for the price point, you get a really durable monster truck. 
Unfortunately, the Arrma Talion is even more expensive. The 1/6 Arrma Talion 4WD truck costs around $699.99. This is about $150 more expensive than the Arrma Kraton. 
There are a couple of reasons for this. But it's mainly because the talion is a powered version of the Kraton. We'll focus more on this later in the comparison. 
If competitive racing isn't what you're looking for, picking Arrma Kraton is the wisest choice. 
Winner: Arrma Kraton is cheaper. 
Vehicle Size
After the price range, the next big talking point is the size of the vehicle. Some users like bigger vehicles while some prefer smaller and sleeker vehicles. 
The Arrma Kraton is bigger than the Arrma Talion in size. The overall chassis and suspension are simply bigger than the Talion. 
The Kraton also has a taller height than the Talion. This makes the Kraton look like a giant. If you're into big monster trucks, Kraton is the way to go. 
On the contrary, Arrma Talion's structure is smaller. Its height is also lowered which improves its performance. 
The Arrma Talion is built to look like a speedy racer. The Talion is great if you prefer a sleeky look. Think of the Talion as a speed truck. 
Winner: Arrma Kraton is bigger. 
Wheel Size
Like the size of the vehicle, wheel size also matters in overall appearance and performance. Depending on the wheels, stability and acceleration can be more or less.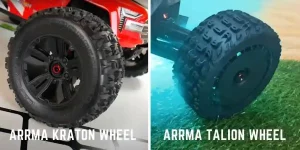 Also, bigger wheels mean they're heavier. This can improve overall stability. But it comes at a cost and that'll be lower speed while acceleration. 
Arrma Kraton's wheels are larger than the Talion's wheels. Naturally, they're also heavier. This slightly reduces its acceleration and improves stability.
On the contrary, Arrma Talion's wheels are smaller and lighter. This allows the vehicle to accelerate faster. 
Winner: Arrma Talion's smaller wheels improve acceleration. 
Stance
Like wheel sizes, the stance is super important. The width of the stance can increase or decrease the car's stability. It can also change overall turning ability. 
The Arrma Kraton's stance is wider than the Arrma Talion. Because of this reason, the Arrma Kraton is significantly more stable than the Talion. 
It's less likely to flip or lose balance. But you can turn corners at max speed. 
In contrast, the Arrma Talion's stance is narrower. The shorter wheelbase length helps the Talion take sharp turns easily. The steering will also become more responsive. 
But the Arrma Talion becomes less stable because of a narrower stance. 
Winner: Arrma Kraton's stance is wider. 
You can change/improve Arrma Kraton's or Talion's stance. For that, you'll need upgraded suspension kits. They're also known as Arrma Kraton accessories. 
Ground Clearance
Top speed or stability isn't always the play when it comes to RC vehicles. Ground clearance matters a lot depending on the sport type. 
Ground clearance indicates the gap between the surface and chassis. In other words, higher ground clearance lets a vehicle go through extreme terrains. 
Like this, ground clearance is also a factor when comparing Axial Bomber with Yeti. Less ground clearance is more friendly towards race tracks.
The Arrma Kraton has a higher ground clearance. This lets the Kraton go through extreme off-road surfaces. 
On the contrary, Arrma Talion's ground clearance is lower. This means it won't be able to endure extreme off-road situations. 
Since the Talion is race-focused, low ground clearance improves grip and traction. 
Winner: Arrma Kraton takes this round. 
Top Speed & Acceleration 
Whether you're bashing or racing, top speed and accelerations are a priority. These are impactful enough to change your entire decision.
When it comes to acceleration, the Arrma Kraton is slower. Arrma Kratons's top speed is also lower than the Arrma Talion. 
Since Arrma Kraton doesn't aim to be a speed truck, it doesn't change anything. But don't be fooled though. Arrma Kraton's top speed is about 60+ mph which is more than enough. 
On the contrary, the Arrma Talion's top speed is 70+ mph. You can tune the car to achieve even a higher result. 
Arrma Talion also has a faster acceleration to achieve that top speed in no time. These two make a great combination and help Talion be a race truck. 
Winner: Arrma Talion takes this round. 
Durability
When comparing RC trucks, we can never skip durability and its importance. RC trucks cost a lot of money so you want your purchase to last long. 
Both Arrma trucks are made to be durable. Because both trucks deal with extreme off-road situations. But one is indeed more durable than the other. 
And, the durable one is the Arrma Kraton. While the car has a bigger chassis, it's also tougher than the Talion. This lets the Arrma Kraton endure extreme bashing sessions. 
The durability of Arrma Talion may not be on par with Arrma Kraton. But it's a tough vehicle nonetheless. 
If used in racing only, Arrma Talion will last a long time. 
Winner: Arrma Kraton is tougher. 
Our Verdict: Which Vehicle Should You Pick? 
That was everything from us regarding the comparison. If you still haven't decided which option to go for, that's alright. Because we've gone a step further and given our own verdict. 
If you're thinking about racing, go for Arrma Talion. This vehicle is lighter, turns great, and has a higher top speed. 
The only downside is that Arrma Talion is more expensive. 
But the Arrma Kraton is made for casual bashing. It has a bigger body and wheels. It's also more stable and has greater ground clearance. 
Besides, it's pretty close to the Talion when it comes to top speed. It's a great vehicle for overall usage and also cheaper. 
Also, you can upgrade your Arrma Kraton to be even stronger and faster. 
FAQs
Is the Arrma Kraton A Truggy?
Yes, the Arrma Kraton is designed to be a Truggy. While it has a body of a truck, it's insanely fast, just like an RC buggy. Arrma Kraton can easily achieve 60 mph on the track. On top of that, it's built to be tough and provides greater handling. It's also waterproof and can take a lot of damage. 
How fast is the Arrma Talion out of the box?
The Arrma Talion can reach more than 70 mph out of the box. The Talion has everything that can help it bash through extreme terrains. But it's also insanely fast, letting it be a race truck on the track. It can go faster with proper tuning too. For beginners, it's easy to use and is an RTR truck. 
Is the Kraton 4S discontinued?
Yes, the Arrma Kraton 4S manufacturing is discontinued by the Arrma itself. The Arrma Kratos is a classic RC basher but sadly it can't be found. The Arrma Kratos 4S could easily achieve 50 mph on tracks. But there are newer models available on the market. You can easily pick Arrma 6S or 8S. 
Final Thoughts
That was everything we could gather and explain on Kraton vs Talion. We hope that this discussion helped you reach a conclusion. 
If you're still unsure, you can check out nearby hobby stores. Or you can try looking for performance videos about the Arrma vehicles. 
Finally, have a nice day and happy bashing!