Introduction
Everytime you get your favorite Kraton car out, wish for an enjoyable race, right? But carrying this out becomes difficult? 
Now, searching for the best one or changing the brand may block your head! Less we could agree! 
Still, car options like Kraton 6S, 8S are there to choose between!
Now, the big question is which one should you choose between Kraton 6S vs 8S?
Kraton 8S comes quite heavier while Kraton 6S appears as a balanced RC. In terms of pricing, Kraton 8S may take your deep pocket out. Meanwhile, 60+, 55+ miles per hour are the velocities of 6S and 8S respectively. What about radio system, Spektrum receivers? Kraton 6S rules the competition here. 
Well, we are just opening up! Still a lot of aspects to be discussed!
So, let's straight cut to the chase!
Kraton 6S vs 8S: Table Comparison
Since we talk about Kraton 6S vs 8S, let's have a quick glimpse first!
| | | |
| --- | --- | --- |
| Comparing Factors | Kraton 6S | Kraton 8S |
| Chassis | Anodized aluminum chassis | Laser-etched aluminum anodized chassis |
| Brushless Motor | 2050 Kv | 1250 Kv |
| Speed | 60+ mph | 55+ mph |
| Radio System And Receiver | 2.4GHz protocol transmitters + Smart telemetry | 2.4GHz protocol transmitters + AVC technology |
Catch these aspects in your head? Well, we are just about to expand our discussion. So, let's begin!
Kraton 6S vs 8S: Detailed Comparison
In this discussion, we will start from unboxing and go deeper!
Unboxing
The first thing we find is the best-performer Kraton 6S 1/8 speed monster truck after unboxing. 
Usually, most of the 6S varieties come with Spektrum Firma ESC with 150A. Also, you will get a double protocol triple channel receiver and a metal-powered servo. 
Meanwhile, proper ways of waterproofing a servo will let you have this for a long time.
Along with that, a 3-channel radio, and brushless motor containing 2050 Kv are also there. 
ARRMA Kraton 8S brings a product manual that remains absent in the 6S. However, its giant speed monster truck is quite bigger than 6S's. 
Also, a 160A ESC and digital servo constructed of metal gear keep this entire package wholesome. However, the brushless motor of 1250 Kv is not enough higher than the Kraton 6S.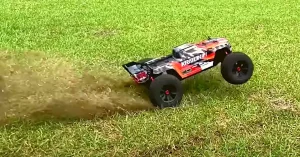 Winner: Kraton 8S
Speed
More than 60 mph the Kraton 6S can generate. Meanwhile, around 55 mph is the maximum limit for Kraton 8S. As 6S has a nicer body carrying a mid-level weight, off-road trails are suitable. 
The durability of the building design along with the brushless system ensures higher speed. Meanwhile, Kraton 8S also provides good speed while considering all-terrain bashing. 
By providing 55+ mph, it lets users experience optimum driving. Apart from its speed potential, you will get additional pinion gears too. In addition, getting some ideas about E Revo and Kraton might help you find out if Kraton gets any 'speedy' competitor!
Winner: Kraton 6S.
Chassis
ARRMA Kraton 6S comes with a solid aluminum chassis along with a 5 mm base thickness. Its holes permit it to have standard mounting hardware and 5 mm screws are suitable to adapt the floor thickness. 
This anodized aluminum chassis is required when you are running an aftermarket skid crock.
The robust solid chassis has a thicker floor which is ready to lessen bending. Relevantly, don't consider it an ultimate invincible due to its enough thickness!
It sticks to the design inherited from the V3 ARRMA Kraton. Meanwhile, from Talion V1-V2 or even V1 to V5, EXB of Kraton are highly fitted. 
However, manufacturers come with a hybrid chassis. As a result, no barrier will be there to suspension travel while sag pins make a connection. Interestingly, you might not find the current plastic guards remaining utilized. 
You may find the best chassis for RC vehicles as our recommendation!
Meanwhile, there can be an installation process ongoing of Kydex or equivalent materials with self-tapping screws.
Also, try not to run V4 or even T2T bars with this chassis indeed.
On the other hand, ARRMA Kraton 8S comes with a chassis made of aircraft-grade aluminum. Having a natural dropped finish makes it possible to remove burrs. 
Relevantly, how much bash it may get won't be a major issue at all. As a result, you will find it standing up to the riggers of tough bashing. 
Coming with a modular configuration permits users to fix several things. Adjusting the volume of flex by dragging the center mounting screws is another major thing. 
Meanwhile, it brings almost 17 mm thicker along with a 9 mm thick top center brace. Along with that, it allows for having an additional center brace of 6 mm. 
As a result, you will get more tuning chances.
Winner: Kraton 8S.
Brushless Motor
Firma 2050 Kv brushless motor usually gets covered with an incredible etched aluminum coat. It serves 4 poles for construction so that operation can be smoother.

As a result, much consistency in generating power is visible. Along with that, its golden bullet connectors ensure a dependable and relentless connection. 
This motor includes black anodization so that heat dissipation can be expanded. Meanwhile, ARRMA Kraton 8S is etched with an aluminum coating. 
Similarly, it has got 4-pole construction along with darker anodization. However, the 8 mm motor shaft has got super strength which is higher than Kraton 6S's. 
You might find this brushless motor just a bit lower. But, 1250 Kv power is still enough to let the motor boost heat dissipation. 
Getting closer to the mechanism of brushless motors and ESC spells out its significance in RCs.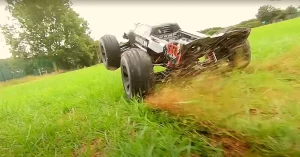 Winner: Kraton 6S
Radio System And Receiver
In terms of radio control, Kraton 6S generates an excellent rate of SLT response. Also, beginners get additional benefits for having a throttle switch limit of 50% and 75%. 
Foam steering swirl grip is quite a comfortable element here. Along with that, no major issues happen while engaging with tactic receivers.
If we talk about its Spektrum receiver, there is a dual-protocol existing. 
Also, no tool predicaments and protocol regulations are there. 
You will find it compatible with SMART telemetry.
Kraton 8S also provides outstanding coverage and response throughout the radio system. The interference resistance limit is also exceptionally broader. It also gets compatible with SLT Protocol Receiver (SLT). 
The 2.4GHz protocol transmitters ensure a faster response rate just like Kraton 6S. Additionally, you will see the on-demand traction control compatibility coming from AVC technology.
Winner: Kraton 6S.
Final Verdict
In the long run, Kraton 8S may require several fixes. However, it's a bit expensive in terms of fixing. As a result, a big investment in loads of trial and error keeps higher chances. 
Also, you may find 8S much heavier than 6S. Meanwhile, the 6S model has got a balanced body to handle. 
Along with that, it can generally offer as much as the 8S can offer. In terms of pricing or even handling gear properly, 6S gets you covered. 
However, durability might be an exciting factor when choosing 8S. Its well-built body makes no compromises.
Hope you can choose the best one for you!
FAQs
How Quick Is The ARRMA Kraton 6S?
ARRMA Kraton 6S can deliver a speed of more than 60 miles per hour. This BLX 4WD RC truck is quite a beast-performer through its brushless system. Having a durable structure lets it perform quicker than other similar configured RC trucks. So, you can consider it an all-terrain bashed vehicle.
Is A Gas RC Car Quicker Than An Electric One?
Usually, electric RC vehicles run quicker than gas RCs. Electric RCs have got better brushless motors along with durable LiPo batteries. So, no matter where you place in an electric car, it will provide you with a top speed. However, these cars can run up to 100 miles per hour which sets a record.
Are The Traxxas Cars Better Than ARRMA?
Yes, Traxxas RC cars perform better in terms of most aspects than ARRMA. No matter if you are a professional or beginner, Traxxas perfectly gets suited. However, ARRMA may invisibly ask for advanced users which sets a drawback. Also, handling a giant ARRMA car is difficult for noob individuals.
Final Words
These all are the basic differences that Kraton 6S vs 8S share. Hopefully, you have caught the gist and find a better angle of these than before. 
So, before buying next time, remember the comparable factors and what you need the most. 
That's all for today!
Enjoy your RC racing!