Introduction
Have you recently got yourself an RC car? Well, it came with a NiMH battery. Charging your RC NiMH battery might seem like an easy task but it isn't always. It also is not a challenging task if you learn how to do it correctly. 
So, It's alright to be curious and look for a proper RC NiMH battery charging guide. 
First of all, know the basics of a NiMH battery. To charge the battery, inspect it before connecting. Configuring the charger is also important. When it's charging keep the timing in mind to avoid overcharging. You also should take some precautions to protect the battery.
Well, don't be confused by just seeing the preview. We have the simplest guideline to educate you.
Interested in knowing about it? Then let's scroll down and read the whole article! 
What is NiMH Battery: The Basics
Before jumping into the guideline let's learn about the concepts of NiMH batteries. Learning this will help you charge the battery with ease.
NiMH batteries come with ready-to-run models. These batteries were comparatively cheap and heavier than LiPo batteries. 
These batteries are potent and come with budget-friendly RC cars. If you see batteries in a stick pack layout it is NiMH batteries.
The energy of NiMH batteries is not fixed in stone. We will get to the voltage and amps later on. That's all you need to know to identify the NiMH batteries in your RC.
But if you want to maintain the performance of the NiMH battery you need to know how to charge it correctly.
How to Charge RC NiMH Battery?
Charging your RC NiMH battery might seem a little more difficult than the NiCd predecessors. These batteries will provide a better level of performance. And also a longer life.
Make sure you do not overcharge the battery.  Overcharging and overheating will damage the cell of the battery.
So, let's charge your RC NiMH battery. There are a few steps for you to choose from.
Step 1: Battery Inspection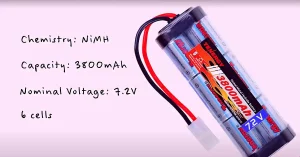 Your battery needs to be inspected before you start charging it up. Inspecting your RC NiMH battery will let you know the exact voltage it needs.
If your battery is ready to charge, check the other equipment.
Before powering up your charger you need to inspect all the wires and adapters. The connection plug should be checked thoroughly before connecting.
Step 2:  Connecting the Charger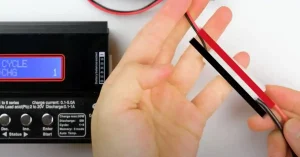 Connect your battery. Obviously to the charger and plug it in. You need to make sure you are connecting by the correct polarity.
While connecting the charger be extra cautious. The bare connectors can lead to any unexpected occurrence. Use a cap or tape to avoid it.
If your charger doesn't have a port on the side, you will have a display in the front. Any wrongdoings will show you an error message on the display.
Step 3: Configuration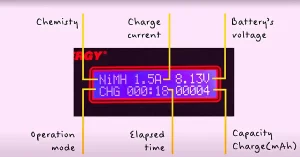 If you are using a standard charger your NiMH will be 10% charged per hour.  This charger might be slow but they make sure you don't damage any cells by overcharging.
Do you want to fast charge your NiMH battery? Well, you can use a timer to do so. This will charge your battery at C/3.33 within 5 hours.
But be careful because fast charging might have an effect on the battery. It can overcharge or overheat the cells.
For heavy RC car users, we suggest you use a temperature monitor. Otherwise, your RC car might not respond to throttle or brake. It will give you a 1C charge rate. It's specifically for regular users.
Well done! Now you know how to start charging up your RC NiMH battery. But you need to keep a few things in mind while charging them.
What To Do While Charging The RC NiMH
You have finally connected the charger. The display of your RC NiMH battery will show the charging situation.
But to keep the cells of your battery perfect, you need to do a few chores.
Charging Time
Keeping the charging time in mind is the easiest. All you need to do is use the time to decide the end of the charge. 
Many RC NiMH chargers have a built-in electronic timer. You can check this timer.
Your charger doesn't contain this feature? Well, then you can keep the timing manually. We suggest you charge the battery from being completely discharged.
Temperature Detection 
When your RC NiMH battery is charging the cells will start warming. The temperature will rise simultaneously.  
Now, you can use your bare hand or a thermal detector to know the temperature. We suggest you not use your hand as it will not inform you of the accurate temperature.
So, here are two amazing thermal detectors for your RC NiMH battery!
Voltage Drop Detection
If your RC NiMH battery is fully charged it will start dropping voltage. This method is also known as negative delta voltage method .
Your RC NiMH charger can detect a voltage drop. That is around 5mV per cell. This drop will make you stop overcharging the batteries. 
Keeping these in mind while charging will keep your RC NiMH battery safe. But it's always better to take some precautions.
RC NiMH Battery Charging: Precaution
Taking some precautions will help you save the NiMH batteries from freezing. These batteries are meant to get some care.
It does sound like too much work, right? Well, trust me it isn't. Taking these are as simple as it can be.
First of all, Do not slow your NiMH batteries. If you use a charge rate between 0.1C and 0.25C, it will not be able to detect the end of the charge.
Then again, slow charging will not raise the temperature. Ultimately you will not understand if the batteries are getting warm or not. 
Make sure you are charging your RC NiMH battery at room temperature.
Do not replace a battery with a charger. Keep in mind that NiMH cells do not accept a charge from a NiCd charger.
You need to check the charging status manually once in a while. If you see any indications of overcharging, try to stop as soon as possible.
RC NiMH batteries always require specific chargers. Do not mix up chargers. It will end up damaging the cells of the battery.
FAQs
How Long to Charge My RC Battery?
It will take 3 hours to charge the battery. Only if you have a 3,000 mAh battery and your battery charger charges at 1,000 mA. The time length depends on the size of your battery. Size means the mAh of your battery. 
How Do I Know When My RC NiMH Battery is in Good Shape?
A fully charged NiMH battery will show a voltmeter reading of around 1.5 volts. If you see this it means your battery is good to go. If you don't overcharge your battery then you will see the voltage between 1.3 volts and 1.5 volts. 
How Can I Know If I Have Overcharged The Battery?
If you overcharge a battery then the cells will heat up quickly. You will also notice a rising temperature on the body of the battery. If you face this kind of situation just disconnect the charger and keep a fan to make it cool.
Final Words
Well, you got the best RC NiMH battery charging guide and this has everything gathered in a simple way.
Just keep in mind not to overcharge your battery.
Now, charge your battery and have fun!
Leave us a comment!