Introduction
Searching for the best RC vehicle carrying better motors, and radio systems are not tough! You might have discovered Traxxas but got confused about its different models, right? 
Worry not, we have prepared this article especially for you! Things that you may leave undiscovered will pop up here along with more interesting facts.
So, what are the differences between XMaxx 6S vs 8S?
Traxxas XMaxx 6S delivers the speed of 33 to 35 miles per hour. Meanwhile, the 8S has got 41 to 43 mph maximum while running. The 1200 kilovolts motor serves the 8S top-notch performance and keeps it durable. Interestingly, 6S brings a more efficient motor but wobbles during off-road trailing.
Well, many more traits remain to discuss here. So, no more keep you waiting! 
Let's dig deeper!
XMaxx 6S vs 8S: Quick Glimpse
Before shifting to the in-depth discussion, let's have a quick look! But that's not the end of showing you the differences. 
However, you will find XMaxx 6S vs 8S has got similarities too over time!
| | | |
| --- | --- | --- |
| Comparing Factors | XMaxx 6S | XMaxx 8S |
| Speed | 33-35 mph | 41-43 mph |
| Gigantic Motor | 1600 Kv | 1200 Kv |
| Build Quality And Robustness | Good | Better |
| Axle Pin | Thinner | Thicker |
Enough of features? Let us show you the detailed comparisons now. 
XMaxx 6S vs 8S: Detailed Comparison
It's time to explore in detail! By the end of this, you will have a clearer idea of XMaxx 6S and 8S.
First Run And Speed
Well, 8S and 6S represent 8-cell and 6-cell LiPo batteries respectively. It's time to explore their battery setups! 
However, LiPo has several varieties too. Checking comparisons like LiPo 3S vs 4S are eye openers.
Though 5000mAh 4-cell batteries highly get used here, you should find an alternative way. 
Regular users of 5000mAh often claim to experience puff through the setup. 
So, why keep you in the struggle! Let's get to introduce with 
Traxxas 6700mAh 4-cell 14.8v 25C! If you do a test with it, some interesting facts will be coming your way. 
But first, start with implementing the 6700mAh on 6S XMaxx. 
It comes at almost 33 to 35 miles per hour. So, its speed may not attract you either. However, having it rolled on the streets, finding comfort in the jumping is excellent. 
However, battery shelves and other varieties are found in different sizes in Traxxas. As a result, many aspects you may find in Traxxas 1/16 vs 1/10 is similar too.
Along with that, it wobbles a little bit and doesn't generate so much power. But in the long run, this 6S car might give you a better performance.
It will smoothly manage any obstacles or jumps though having less power and that's the beauty! So, try not to always go for a higher S before testing.
Now, strapping in 4S batteries for an 8S speed run will show some differences from earlier. You may find the speed goes around 41 to 43 miles per hour. 
However, Traxxas 8S refuses to roll all over its body due to its gigantic size. While running it through the off-road or desert, you might find it a bit rolling. 
But street roads or cemented roads won't help enough to get it rolled. Meanwhile, it provides a super easy driving facility that will make you convinced indeed. 
Apart from these, jumping from the stairs, or higher positions may find this car unsuitable. 
Having excessively overweight forces it not to go wilder. But overall, you might have a nicer experience on the first run.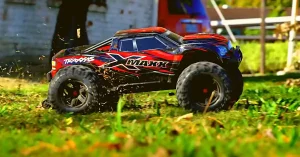 Winner: XMaxx 8S.
Build Quality And Robustness
Mostly, outlook carries a significant value that influences our buying decisions. Luckily, XMaxx 8S has got a well-built structure. 
As a result, you will find it durable and robust enough for off-road adventures. Meanwhile, ensuring to tighten up the wheels carries great importance. 
So, maintaining some basic things will deliver you the highest performance. Its durability will convince your eyeballs while flowing through any grass or off-road activities. 
However, its strength of control gets reduced when you place it in on-road situations. But mostly, Traxxas 6S comes with a lot of wobble on the on-roads. 
However, having a lightweight feature comparatively puts it in a better position too. As a result, you may find better rolling in the 6S rather than having it in 8S. 
Apart from these, XMaxx 6S has fewer differences in terms of robustness or control. Besides, its build quality is as good as the 8S.
Winner: XMaxx 8S.
Gigantic Motor
Traxxas XMaxx 6S comes with 22 volts of double LiPo batteries. You will also get a Velineon 1600XL giant motor to serve. 
It brings ruthless power along with an uncompromising speed that thoroughly flouts its gigantic size. So, it's nothing but extremely overpowered.
Meanwhile, Velineon 1200XL is the motor specification for the Traxxas XMaxx 8s. And yes, the motor comes electric. 
It comes as assembled entirely. This ready-to-run RC car has the speed control of Velineon VXL-8s. Relevantly, knowing if LiPo batteries charging without chargers is crucial here.Find out some efficient motors as per our recommendation!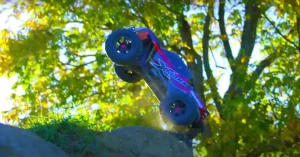 Winner: XMaxx 6S.
Traxxas Stability Management (TSM)
As Rc vehicles highly rely on better and steadfast stability management, this aspect is really discussion-worthy. 
TSM or Traxxas Stability Management comes into the picture to revise the power at increased speeds. What if you take a sudden, nasty turn? 
TSM minimizes the probabilities of colliding indeed. Moreover, the way you want to drive is highly possible through this management. 
It lets you have your on-demand driving more realistic in Traxxas XMaxx 8S. Apart from the TSM, an exceptional knob is there for tweaking the system. 
You can also consider it a special trait of customization which highly satisfies RC enthusiasts.
However, XMaxx 6S highly suits the TQi 2.4 GHz radio control. Just like 8S, this model also comes with the Traxxas Stability Management. 
As a result, it produces a premium driving experience. 
Along with that, you will not find any fluctuation or spin outs on greasy soils. So, gaining more control, and braking harder are quite flexible here.
Winner: XMaxx 8S.
Final Verdict
Let's look at the 6S first. Coming with a mammoth sizing, this RC car has got many recognitions over time. 
But to consider it a monster truck ultimately, digging deeper is crucial. It serves more than 30 volts along with jaw-dropping acceleration power. 
As a result, off-road trails, and tough terrains are highly suitable for this car. It can accelerate nicely through fierce landscapes. 
Having an 8-inch tire along with a massive ground clearance impede makes it unmatched. 
The newest editions of both 6S and 8S come with 1600 and 1200 Kv motors respectively.
On the other hand, an entirely waterproof XMaxx 8S provides great features on the mounting system. 
Its incredible body latching process makes operation faster and smoother. Besides, you might find TQi radio control along with a premium outlook. 
Higher accessibility in battery usage, providing GTX shocks are top-notch traits. However, due to its extra weight, off-road adventure might get limited. 
But it won't wobble like XMaxx 6S. The 8S is also capable of providing a stiffer compound tire. Meanwhile, its axle pins are much thicker than the 6S's. 
Also, in terms of having cush drives, torque center diff, 8S gets included. However, 6S leaves these traits behind. 
Meanwhile, you might find 8S first in searching for better rigs. Unfortunately, 6S misses this slot too. Cooling fans and Teflon-coated shafts also belong to 8S only. 
That is all!
FAQs
Does The XMaxx 8S Stay Waterproof?
Yes, The Traxxas XMaxx 8S is waterproof. However, you may not find it flexible in every wet situation. You will find it surviving through puddles containing dirt or mud. But getting submerged for a long period in the water is unsuitable for this car. Additionally, it's a threat to being impervious to water.
How Should I Store LiPo Batteries of Traxxas?
You should store LiPo batteries at half of their capacity. Storing them in a secured place like fire-proof containers or boxes. However, leaving these batteries discharged is prohibited. It may drop battery performance as a result. If discharging continues for 7 days, it will stop performing.
Which Batteries Are Suitable For XMaxx 8S?
LiPo battery packages are highly compatible with XMaxx 8S. Having 14.8 volts along with an 8500mAh battery does the trick for XMaxx. However, this LiPo battery comes with an XT60 plug. These factors push the car to make its performance better. Also, Powerhobby 4S suits with 6500mAh LiPo batteries.
Final Words
These are the key aspects to learn on XMaxx 6S vs 8S. Still, we left more to cover. 
But hopefully, what we have spelled out is enough to guide you for better picking. Let us know if you have any questions!
Stay safe out there on your RC Adventures!