Introduction
We would like to share our RC10GT electric conversion construction, racetrack testing and bashing experience. We have seen some pretty excellent conversions! So, we hope that it will be quite helpful and interesting for the RC lovers!
Now, the question is, how to do rc10gt electric conversion?
First, you have to move the steering servo to create room for the battery and motor. Also, you need to add brackets to hold the batteries and motor. The holes have to be redrilled. Now change the gears to 60 pitch. You have to use a traxxas 7.2 nimh battery with a Speed Gems Arconite Pro motor 19t.
That's all to do! However, there are some things to keep in mind while you go through the procedure. We have included them in this article for your convenience.
I hope you are willing to devote some of your time to this. Let's have a peek. Here are the specifics for you to consider.
Conversion of RC10GT to Electric 
For a while, the RC10GT was the industry's first venture into racing nitro vehicles. Unfortunately, time was of the essence in the realm of RC racing, as 1/8th scale cars. Quickly supplanted the nitro racing world.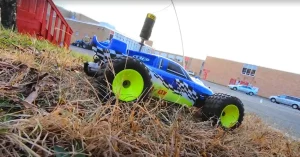 The RC10GTs were gradually abandoned at home but they were never forgotten. Flash ahead nearly 20 years and the recent introduction of a slew of modern stadium trucks. As mid-motor trucks have brought us full circle. 
With a lot of RC10GT memories and discussion filling the air. But at present many of us are trying to convert the RC10GT from nitro to electric. For the conversion you need some tools which are listed below:
Required Tools
Brushed motor of 19t

Motor bracket

Battery

Bracket for battery
We would like to recommend you the Bracket for batteries listed below:
Mount The Motor
First, you have to mount the 19t motor with the engine bracket. We would like to recommend to you a Castle 1410-1Y 3800 Kilovolt 12 NIMH/3S Lipo Max motor. Because the castle motor's durability is much higher than others. 
You can use the universal pro motor bracket here to mount your motor, which is a much more reliable and more preferable motor bracket for RC10GT.
Attach The Gear With Motor
You can use the stock gear of 4.1 buggy which is known as B4.1. This gear has 60 pitches. It works as a spacer, allowing you to connect the tranny housing to the motor plate. 
Besides, it increases the structural strength of the transmission casing and motor plate. As a result, you will get some extra miles per hour out of that. On the other hand, if you want to use a smaller one then you can use 36 tooth gear. 
Mount The Battery
The battery has to sit horizontally as near to the motor as feasible for optimal balancing. Because the weight is already skewed forward due to the mid motor layout. You have to use a battery bracket to mount it.
You can use traxxas 7.2 nimh battery, which is the perfect battery for the RC10GT as you are converting it to electric. Before buying a traxxas battery, you should check its condition. 
It can be a new or used battery. As long as its condition is perfect, we can use it without any hesitation.
Set-Up ESC
Place the ESC in the mid place of the motor and battery. Connect the motor to the ESC main wires. Motor ESCs contain five wires: three link to the motor and two connect to the battery pack. 
The motor's cables have the letters "A," "B," and "C" on them. The "positive" and "negative" (+ and -) cables for the battery are indicated. To the attachment locations, the cables are likewise color-coded.
When putting the motor and ESC in the RC10GT, route the wires carefully to minimize any insulation. Any contact with moving elements might result in insulation breakdown and a short.
Before soldering, make sure the connections are clean and free of any oily residue. Use fine sandpaper or emery cloth to remove any heavy deposits. You can apply alcohol to rub and remove small stains as well as to finish a sanding process.
Make sure the cables are properly linked to the motor before installing it in the vehicle. Replace the driving gear cover and the gear.
Steering Control
You can put some new proline tires and duratrax wheels. So far, it will show a lot of potential. While it lacks grip on dirt, it shoots off like a rocket on carpet with no wheelies and no loss of steering control. Over leaps, it appears to be quite well balanced tires. 
On the other hand, if you want some cheaper wheels, then you can try jayco wheels. Jayco wheels are cheaper than duratrax wheels. But its performance is quite good. We assure you that you will not get dissatisfied by using it.
Performance Review
We nailed the accelerator on the asphalt next to our house. We launched it and wheelied so hard that it turned on its top and slid at least 30 feet down the street. So, what's our take on the construction? 
If you typically operate on dirt roads or other low-traction surfaces, we believe a rear motor vehicle is the superior option. The additional weight in the back just improves rear-wheel traction. 
With this, we routinely launch quicker and seem to pair up better all over the dirt track. On the carpet, it is a different story. This vehicle is incredible on the carpet track.
Because the weight is distributed more evenly across the vehicle. It steers better under power. Now, we're not going to attempt to convince you that this vehicle can compete with the newest purpose-built race trucks. 
FAQs
On an RC car, what is ESC?
ESC is an electronic speed control which is a circuit that regulates and controls the rotational speed of an electric motor. It may also be capable of motor reversing and dynamic braking. In electrically driven radio controlled models, miniature electronic speed controllers are employed.
What is the top speed of an electric RC car?
100+ miles per hour. Tuning and modification might be difficult in a noisy, disorderly environment. RC vehicles that run on electricity are quicker than those that run on gasoline. Electric cars which use LiPo batteries and battery powered motors are faster than nitro or gas RC cars, reaching speeds of over 100 mph.
What exactly is the distinction between nitro and gas?
Nitro engines use a methanol/nitromethane mixture with extra lubricants. On the other hand, gas engines use pump gas combined with conventional 2-cycle oil. 2-cycle nitros offer a better power-to-weight ratio and are considerably easier to operate in general.
Final Words
By now we believe that you have already found the complete solution. Now you know the procedure of how to do rc10gt electric conversion perfectly.
However, it holds itself and is a lot of fun. Finally, purely from the standpoint of having a fun to drive vehicle. We hope that you are really pleased with the conclusion of this endeavor. So far, it's been quite durable and speedy.
Thank you for taking the time to read this article of Inside look! Have a wonderful day!