Introduction
The TT01 and TT02 have long been favorites among RC car fans. You're probably thinking about which one to purchase if you're new to the RC hobby.
So you don't have to be perplexed any longer. We're on our way to help.
Which should you choose, TT01 vs TT02?
The propeller shaft and suspension of the TT02 are better. It has no bottom holes and an easily accessible suspension. Several elements of the TT01 are made of metal and are therefore more durable. Because of its structure, it is less shaky. However, the TT01 struggles when used off-road.
Isn't everything unclear to you? The main article includes thorough head-to-head comparisons. So keep reading to find out more!
TT01 vs TT02 – Quick Comparison
If you're an RC car lover, a TT01 or TT02 will be a really good choice. Both of them are very similar to RC cars. They are both from the same manufacturer and one of the best brands in the market. The Tamiya TT02 is a newer version when compared to the Tamiya TT01. 
Here's a chart containing the quickies to let you compare TT01 vs. TT02. Have a look at them.
| | | |
| --- | --- | --- |
| Comparison Factor | TT01 | TT02 |
| Structure | Aluminum | Glass Fiber Reinforced ABS plastic |
| Motor | Quicker Motor | Slower Motor |
| RC Car Height | Less Height | Longer height |
| Suspension | Poor Suspension | Better Suspension |
| Suspension Accessibility | Hard | Easily Accessible |
| Design | Motor on right | Motor on left |
| Kingpin | Shorter Kingpin | Longer Kingpin |
| Steering Rod | Supported by Metal  | Supported by PLastic |
| Bottom Holes | Has both bottom holes and motor vent | Don't have bottom holes or motor vent |
| Customize Availability | Easily Customizable | Easily Customizable |
TT01 vs TT02 – Detailed Comparison
A quick overview is not sufficient to understand the difference between the cars. We are going to compare every single aspect of these two cars. This will help us to understand what specialty they each have. 
It will assist us in determining which one we should purchase based on our requirements.
So, let us get going.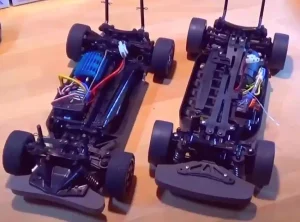 Structure
Compared to TT02, TT01 has a stronger structure. The reason for this is that the TT01 is composed of aluminum. In contrast, the TT02 is constructed of glass fiber reinforced ABS plastic. Aluminum is stronger than this reinforced plastic. 
So, the whole structure of TT01 is stronger than TT02.
Motor
When it comes to motor, TT01 comes ahead of TT02. With quicker motors, the TT01 performs admirably. However, it also wears out faster. TT02 on the other performs badly with fast motors when compared to TT01. But this is long-lasting which TT01 is not. 
If the motor isn't working properly, the RC might not start. So it's better to take good care of the internal components.
So, if we want a speedier RC, we should go with the TT01. But If we are looking for a long-lasting one, we should definitely go for TT02.
RC Car Height
When it comes to car height or ground clearance, TT02 is ahead of TT01. TT02 is significantly taller than TT01. This enables TT02 to be better for use in grass or and kind of grovel.
Because of the low ground clearance, TT01 is not very good food grass or uneven areas. This car is best for use on road. This will get us the best output when using them.
Suspension
The TT02 has a better suspension than the TT01. Suspension capability all comes to shock resistance. TT02 has better shock resistance than TT01. 
If we're using the car on a bumpy road, the TT01 is sure to struggle a lot. This is because of the suspension. So for a bumpy road, the TT02 is always a better choice.
Suspension Accessibility
We can easily customize the suspension of these two cars. Among the two cars, the TT02 has an easily accessible suspension than the TT01. To remove the suspension for the TT01, you have to remove the bumper and then the differential.
Afterwards, we can reach the suspension to work with. This is a good amount of hassle that you have to go through. None of these problems occurs when working with a TT02.
Design
When it comes to design, both cars are quite different from each other. Where the TT01 has a motor on the right side, TT02 has it on the left side. Moreover in TT02's design, there are no separate walls. This model also uses the LiPo battery.
Remember, our LiPo might get damaged after using it for a certain time. With proper precautions, we can fix your LiPo battery.
Moreover, the TT02 lacks a supporting rod which is not the case for TT01. TT01's internal components are made out of metal and the design is so good. TT02's internal components are made out of plastic. So altogether, TT01 has a stronger core.
Kingpin
The kingpin is the primary pivot of a car's or other vehicle's steering system. Compared to the TT01, the TT02 has a longer kingpin. It enables the car to break quickly. But this longer kingpin also makes the vehicle shakier.
Because of this, the TT01 is less shaky than the TT02.
Steering Rod
The steering rod is supported by pivots and bearings. The TT01 pivots and bearings are metallic and very compressed, and the steering rods are more stable.
In TT02, however, they are composed of plastic, and there are tiny gaps between the parts. As a result, the steering rod on TT02 is a little flimsier.
Bottom Holes
The TT01 features a number of open holes in the bottom. It also features a motor vent. These open areas are good for ventilation. However, it impairs the car's stability. Furthermore, mud and grit may readily enter the automobile and cause damage while offroading.
There are no similar holes at the bottom of TT02. As a result, it excels in off-road courses. Its sturdy propeller shaft provides it with an additional benefit.
Customize Availability
We can customize both TT01 and TT02. With a TT01 chassis kit, we can easily work on the cars. The TT01 type E chassis kit also allows us to fine-tune your machine's settings for increased performance. 
This chassis kit also features multiple more optional parts which will make our experience better.
Final Verdict
Are you still perplexed and unable to make a final decision? Don't be concerned. Let us summarize it for you.
If you're looking to travel offroad but don't mind sacrificing durability, the TT02 is the way. If we want to ride on the road, should definitely choose the TT01. However, the TT01's construction components are metal, making it more durable.
There might be fraudulent cars on the market nowadays. You might easily be duped by those selling malfunctioned cars. So, whether you buy the TT01 or TT02, please use the links provided below.
I hope this clears up any doubt between TT01 and TT02.
FAQs
What is the TT02R?
The TT02R is a fantastic kit with a plethora of handy hop-ups. The rear hubs will make the vehicle much more stable and easier to drive. And the vehicle also has bearings and oil shocks. It lacks an ESC and a body, the cost of those must be factored into the equation.
What scale is Tamiya TT01?
Tamiya's TT-01 is a 1/10 size shaft-driven R/C chassis. Since its introduction in 2003, the TT-01 has proven to be a popular entry-level chassis. Particularly so for drifting and rallying.
What is the Tamiya TT02D?
Tamiya's entry-level 4WD complete independent suspension assembly kit is the TT-02. This kit is simple to put together and maintain. The Drift Spec edition of the TT-02D features unique components that make it a fun-to-drive drifting vehicle.
Conclusion
So, that's all you need to know about the difference between the TT01 vs TT02. No matter which one you choose, they should both work well. 
Both of them are very good cars and we hope that you got your answer.
Have fun with your racing car!