Introduction
Have you ever experienced different RC cars coming with various motors while involved in competitions? Motor efficiency may pop up at first as a deciding factor. But it's not! 
There are several comparable aspects you can discover. Worry not, we have sorted these out so that you got the gist.
So, what are the differences between ARRMA Mojave vs Senton?
Well, speed might come first as a priority for most users. Meanwhile, ARRMA Mojave goes up to 60 miles per hour while the Senton brings around 50 mph. However, the radio control system is better in Senton which wins Mojave over. Differences in the brushless system, receiver, etc., are also there.
That's not all! Several factors are left to spell out.
So, let's hop on the wagon and dive deeper into it!
ARRMA Mojave vs Senton: Quick Glimpse
Before moving to the in-depth comparison, let's have a quick overview below!
| | | |
| --- | --- | --- |
| Comparing Factors | ARRMA Mojave | ARRMA Senton |
| Speed Rate | 60+ MPH | 50+ MPH |
| Radio Control | Average | Outstanding |
| Brushless Motor | Around 2050 Kv | 3200 Kv |
| Receiver Box | Single EXB waterproof  | 2-channel waterproof |
| Front Bumper | Wider | Regular |
Any impression built on your head yet? It's fine if you haven't. 
Let's dig deeper into ARRMA Mojave vs Senton now!
ARRMA Mojave vs Senton: Detailed Comparison
Several issues will pop up while reviewing these two RC truck models. However, we sort the significant ones for your proper understanding. 
Let's start with the brushing system.
Brushless System
The BLX series of ARRMA Mojave comes with IC5. In other words, this IC is compatible with EC5. 
Moreover, having a  brushless system makes it a top-notch dessert truck. The motor in the brushless contains 2050 Kv along with a metal-oriented servo.
Meanwhile, ARRMA launches the Senton series containing 4×4. These dessert trucks come with a unique brushless system presenting BLX100 ESC. 
It also carries ESC with 2S or 3S and brings an IC5 connector too. 
You will find the Spektrum Firma containing a 3200 Kv brushless motor too. As a result, providing outstanding torque power, and accelerating it becomes possible. 
Along with that, its chassis and transmission are quite well-built. So, your truck will be able to endure the maximum benefit of the electronics' power.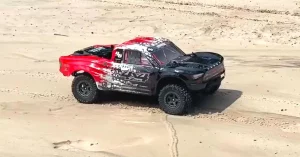 Winner: ARRMA Senton
Radio System
Inside the ARRMA Mojave, you will find a giant 1/7 scaling radio control system. The capability of 6S enables it to express powerful RC striking action. 
So, wherever you take it to play, it can deliver like a beast. From surviving dirt, and grass to even asphalt, fewer RC vehicles can challenge it. Meanwhile, you don't need to worry about the weather either. 
What if it's sunny, rainy, or even started snowing? Barely this giant ARRMA masterpiece cares about! Gaining top speed with enough strength and compromised higher durability is visible.
Meanwhile, ARRMA Senton comes with a radio system entirely covered by Spektrum STX2. This 2.4 GHz system brings a dual-channel watertight receiver. 
Along with that, you will get a 3 part throttle controller coming as a built-in function. 
This throttle or steering also reverses or adjusts the system if required. Meanwhile, a vast range is available there and no interference will affect the car's performance.
However, its maximum servo torque is 6 Volts: 84 oz-in and its maximum servo velocity is 6 Volts: 0.14 s. Relevantly, knowing how to make a servo waterproof keeps the speed upper.
Winner: ARRMA Senton
Speed Rate
Senton brings up to 50 miles per hour. Incredible toughness and excessive torque power make this acceleration possible. 
On the other hand, Mojave has several drawbacks. But in terms of producing velocity, this brand doesn't compromise. 
Mojave goes more than 60 miles per hour using a 6S LiPo. If you are going to buy lower LiPo-powered RCs, it may lessen the speed. 
But still, it won't be an issue as fewer drastic changes exist there.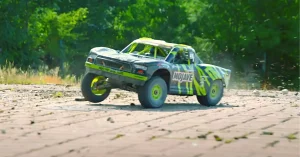 Winner: ARRMA Mojave
Final Verdict
ARRMA Senton introduces a well-built wider body along with bumpers. So, if you plan to use RC cars for longer periods, Senton can have your attention. Apart from this reliability, it's quite fun while running. 
Smoothness in driving has become possible for its better handling scopes. Meanwhile, you can easily maintain it for a long time. 
Along with that, less trouble will be popping up in your head due to the cost-effectiveness. These have made Senton one of the best electric radio-controlled trucks!
However, servos, front bumpers, front recess shock arm, etc., are highly sensitive. So, perhaps it may come with some errors. As a result, a new pair of these you may require to buy.
Coming with an exceptional speed rate is just awesome. From its 2S to 3S, each model truck delivers solemn power units. 
As a result, an hour or two of driving is easily passed, possibly through two batteries.
You can check our battery recommendation for using AARMA trucks.
It also comes with in-fender swirls made of usually high-quality steel, fiberglass, etc. As a result, you may find debris or dirt in its chassis. 
Knowing the process of cleaning RC vehicles might be a good insight for you.
ARRMA Mojave, on the other hand, is a ready-to-run dessert truck. It's one of the earliest launched RC cars of ARRMA. 
Having a 1/7th scaling fits nicely for adopting the desert vehicle's style. Variety in LiPo along with metal gears pushes it to run for a long time. 
Meanwhile, you have got earlier that it can run up to 60 miles per hour. Incredible stats, right? 
Not really! Well, coming with a cheaper and unsuitable radio control won't impress you much. If you explore radios, this one of Mojave looks around $20. 
Along with that, delaying response while controlling shows a lack of efficiency. You will find here a shorter range of radio control too. 
So, have a look before heading to confirm purchasing. Providing no fan or heatsink in the motor is another concerning issue. 
But the worst thing is, we didn't tell you yet! Overheating in less than five minutes while running is inevitable here. 
The third issue relates to its hex nuts. However, its wheels are well-built. 
But nuts get loosen over time and force the wheels to ruin. Also, the rear hub bearing gets often contaminated and loosens easily. As a result, the chances of blowing itself up exist. 
Lastly, Mojave brings nicer servos having 15 kg. But as soon as you have a giant vehicle like Mojave models, these servos don't suit. 
For these reasons, you can consider ARRMA Senton as your preferred RC trucks
FAQs
Which Motor I Will Get In ARRMA Senton?
ARRMA senton comes with a Firma 3200 Kv brushless motor having a brushless system. Providing excellent torque power, speed, and acceleration are its main features. Manufacturers contrive ruggedly the transmission along with the chassis. It allows taking maximum benefit of the electronics' power.
How Quicker Is The 4×4 ARRMA Senton?
4X4 3S BLX ARRMA Senton can generate a speed of more than 50 miles per hour. It comes with a well-built material and disproportionate toughness. As a result, nicely balancing the velocity out you will find here. Along with that, its brushless system including Spektrum STX2 radio boosts the speed.
Which One Is The Quickest RC Truck Having 4X4?
Traxxas X-Maxx 4X4 is considered the quickest RC truck right now. However, Nuoke RC Truck 1:16 Scale and Laegendary Off-Road Monster trucks also come on this list. These all can speed up more than 40-60 miles per hour. Meanwhile, 20 to 30 miles per hour is the average speed of a general RC truck. 
Final Words
So, these are the core of ARRMA Mojave vs Senton that you should know. We tried to make all of the comparing factors easier in front of you. 
Hopefully, you may find our effort effective while deciding to buy RC trucks. That's all for today!
Happy Driving!