Introduction
Traxxas XL5 is one of the most ruthless RCs out there. But, what would you do if it suddenly stopped working?
Traxxas troubleshoots for a number of reasons. There can be problems with the battery, and some parts might be not functioning. Or, it just might be a programming problem. Check if the components are all connected and also if it is programmed properly or not. These will definitely fix your Traxxas.
Well if you got a minute. Then let's dive deep into the abyss and get to know more about it.
Traxxas Xl5 ESC Troubleshooting
The XL-5 combines powerful and intuitive full-range braking control. It also helps with smooth, accurate, full-proportional management of your speed forward and backward.
The use of Traxxas Power Cell LiPo batteries with electronic speed control (ESC) with a low-voltage detection system or alarm to avoid over-discharging. Low Voltage Detection is standard on all contemporary Traxxas vehicles, and XL 5 is no different.
However, sometimes the ESC or electronic speed control does not perform. Hence troubleshoots. It can happen because of a number of reasons. Here we discussed the reasons and also how to fix them.
Reasons Traxxas Xl5 Won't Start
Transmitter Not Switched On
Before attaching the battery pack, the radio must be switched on. After installing a fully charged battery, start the car.

Battery Pack Is Not Properly Connected Or Is Damaged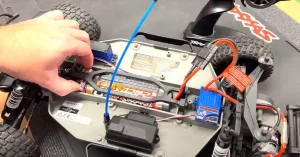 Check that the battery pack is correctly plugged in. Afterward, check if the pins within the socket (plug) are not deformed or broken. If you are confused about the status of your battery, try a different one.
Battery Pack Is Completely Discharged
To run the car, the battery should be charged. Fill up the battery pack. However, if you want to know about battery vol err cell connect, you can find it out here.

ESC Error
To safeguard LiPo batteries, Traxxas's electronically controlled speeds include heat protection and a low voltage cut-off. When utilizing NiMH batteries, your ESC's status light ought to be solid red. 
If you're utilizing LiPo batteries, the condition must be green, signaling that low-voltage safety is turned on. 
If you use a NiMH battery with both the low-voltage function enabled, then your car will most likely only operate for a few seconds. It will take time until the ESC status indicator blinks red.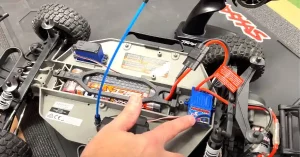 Esc Requires Programming
The Traxxas ESC might need to be reprogrammed, however, with proper conditions. The methods are given below.
These methods apply to Traxxas speed controls as well. To ensure peak performance, your Traxxas electronic speed control may require frequent programming. 
If your vehicle stops reacting to speed input, then if you want to change modes. Moreover, if you move from NiMH to LiPo batteries, then you have to go through these programming procedures.
Connect the ESC to a  battery pack that is fully charged.

Turn on the radio (with the throttle at neutral).

Hold down the EZ-Set button (A). The LED will turn green first, then red. Turn off the EZ-Set button.

Push the throttle trigger to the full throttle and hold it there. Hold it while the LED blinks RED ONCE (B).

Whenever the LED blinks RED TWICE, press and hold the throttle trigger in full reverse (C).

The programming is complete when the LED blinks GREEN ONCE. The LED will then glow green or red (depending on the low-voltage detection option). This indicates that the ESC is turned on and in neutral mode (D).
Speed Control Receiver Lead Is Unplugged Or Loose
Check the connection that connects to channel #2 on the receiver for tightness.
Receiver Failure
If you have a receiver that has been failing. Then you should replace the receiver and check to see if you have a proper warranty service. If you don't there is nothing to be worried about. However, you should not go to local stores for these. Also if your Traxxas receiver won't bind, you can find it out also.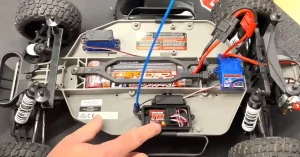 Missing Axle Drive Pins
Tighten the wheel nuts. After that install the axle drive.
Motor Worn
Electric motors must be replaced on a regular basis. Remove the brushed motor and attach it straight to a battery to test it. 
If the motor rotates gradually or not at all, it should be replaced. If the motor is turning rapidly, the problem seems to be with the ESC or radio system. Brushless motors are not affected by this procedure.
However, if you are looking for some new motors, I have some suggestions for you.
| | |
| --- | --- |
| Name  | Details |
| Product 1 | |
| Product 2 | |
Hope you like them.
Loose Or Damaged Spur Gear
When the engine is revved up, a loose or stripped spur gear prevents the truck from moving. 
Pinion Gear Loose
Tighten and check the set screw on the motor pinion. Because if the motor pinion is not working then the ESC will also shut down.
Transmission Damage
Examine the transmission for damaged gears. Because this might also be a major issue for the ESC not lighting up.

ESC won't Calibrate?
Well now that we have looked at the reasons. Now let's jump into how to calibrate our ECS. So that we can get it back to work.
4 Ways To Calibrate
First, ensure that the radio system is operating. For 2.4GHz systems, just turn on the transmitter and the car. Then ensure one and the other transmitter and the receiver have a green light.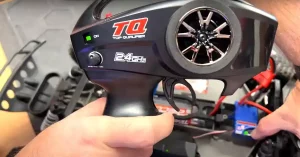 Whether you have an outdated A.M. radio control system, this is one of the simplest methods. to ensure the transmitter and receiver are interacting with one another. To switch on the transmitter and the car, check to see if the steering is functioning properly.
Check that the three-wire connection that connects to the transmitter is inserted into the CH2 port. 
Because the receiver is kept in a waterproof receiving box in all of our cars. This will make opening the box take a couple of minutes. DO NOT SKIP THIS STEP FOR ANY REASON, even though the consumer insists on checking it. 
We've had whole vehicles mailed to Traxxas just to find out that the ESC was connected to the wrong platform on the ESC.
It couldn't possibly be connected to the incorrect channel. It is critical to devote sufficient time to this visual examination. Because several Traxxas receivers have two CH1 ports. 
The CH2 port is the third from the bottom instead of the second. If you look carefully, you can see the channel number to the left of each port.
If you've checked the first two things and the ESC still won't calibrate

. Then contact Traxxas and get one of our customer service professionals. They will lead you through with a master end-point reset on the transmitter.

Unplug any other gadgets or servo motors that may be connected to the transmitter. This is also while maintaining the ESC connected to CH2. If you can calibrate the ESC, another of the servo motors or devices is most likely defective.
This can occasionally have an effect on all the rest components hooked into the same transmitter.
FAQs
What does it mean when my Traxxas ESC is blinking red and green?
An over-voltage warning is displayed by a Traxxas ESC that flashes red and green. It usually implies that an overcharged battery is connected to the ESC.
Why does my Traxxas keep shutting off?
It's possible that your low voltage cutoff has activated because you're using NiMH batteries. Also, if you're using lipos, you might be experiencing a thermal shutdown.
Why does my ESC randomly turn off?
You're drawing too much current for that controller, which may be sensitive to over-current and/or temperature. The voltage cut-off point in your controller is set too high. Under high load, your battery voltage drops too much.
Conclusion
We really hope this fixed your Traxxas XL5 ESC troubleshooting problem. And now you can easily fix it at your convenience.
If you like our article, leave your comments in the section below.
Thank you for reading. Take care of yourself and we will see each other again!